HMC Model 4800 (Horizontal)
The HMC 4800 has it all - Check out this list of features:
- Air strain
- Welded steel construction (tubular) of the support frame
- Front and rear lumber hold-downs
- Roll bed drive, 5HP electric variable speed drive (VFD) synchronized with front and rear hold downs
- Cartridge style pressure guides with guide dressing machine
- Cast iron wheels, support, and bearing housings
- 49" diameter wheels to carry a 6" wide saw blade
- Motorized wheel lift
- Wheel tilt for blade tracking
- Computer controlled proportional hydraulic setworks with infinite sets (includes hydraulic power unit)
- Pneumatically operated Blade Braking System
- Automatically centralized lubrication for wheels and blade surfaces
- 100 HP TEFC Motor, starter and V-belt Drive
View the HMC Horizontal Band Mill Brochure
HMC/Pinheiro Band Mills are rugged and reliable. Our units are built to handle years of heavy use with minimum maintenance.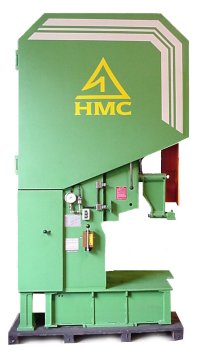 Features include:
- Welded steel construction column and base
- Cast iron wheels
- Pressure guides
- Hydraulically tensioned
- Automatic Lubrication System
- Air-operated brake
- Right or left-hand construction option
View the HMC/Pinheiro Band Mill Brochure
HMC's core products include Debarkers, Carriages, Carriage Drives, Trimmers, Waste Conveyors, Lumber Handling Equipment, Infeed and Outfeed to Band Resaws, Chain Turners, Metal Detectors, Tilt Hoists, and Band Mills. We also have some Used/Rebuilt Products and other lumber products for sale.